Engage New Hires with
Stories from their Peers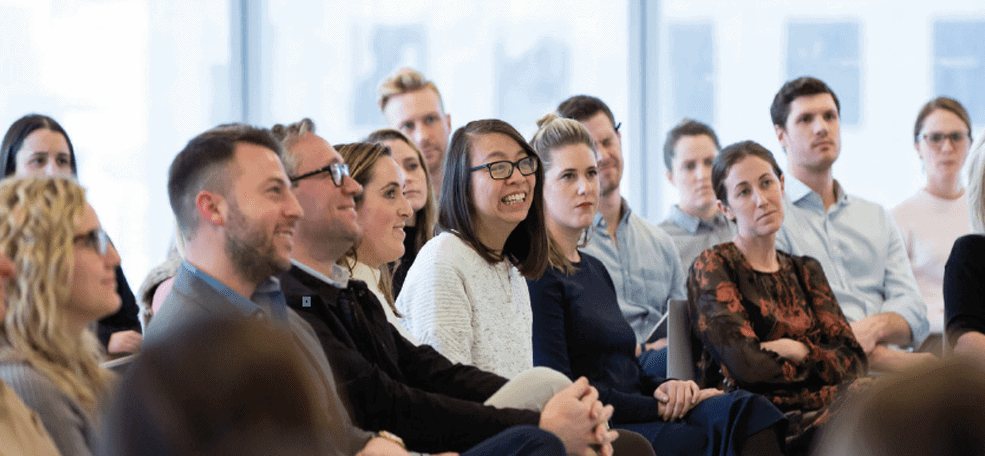 Power Your Employee
Onboarding with Storytelling
Every new hire arrives with a fresh perspective. After completing the required paperwork and compliance information, she seeks to understand your culture, mission and values in order to work with greater purpose. Your challenge is to create lasting engagement that supports business goals and satisfies your employees desire to achieve. 
Studies show that the first days and months of a new hire's journey can lead to a sense of uncertainty and disconnection. Especially so when the larger mission and its relationship with their specific responsibilities is unclear. Storytelling can help! Our employee onboarding program uses storytelling to enrich cultural understanding, increase role clarity, and create belonging from day one.
To a new hire, your company is a story that has not yet been told. When she listens to the CEO tell your origin story or a manager talk about a client interaction, she'll see your culture in action and know what your brand stands for. All cultures pass on unique knowledge through stories—your company is no different!
With each story told by a relevant speaker, your new hire gains critical information that prepares her to succeed in her job. Uncertainty and overwhelm decrease because stories convey information in the best way for a new hire to absorb, assimilate, and put into action.
Stories are social—a team sport. The more a new hire listens to stories from her peers, the more she will feel a sense of belonging to the team. Social bonding through storytelling promotes trust, understanding, and stronger workplace relationships.
Studies show that well-onboarded employees have shorter time to performance, deeper cultural assimilation, and are less likely to leave their jobs. Let us work with you to excavate and craft the stories they need to hear, delivering unique and powerful learning content that's durable and scalable. Revolutionize your new hire onboarding experience with storytelling!
Stories Prepare New Hires for Their Jobs
When a manager excavated her experiences in the field as stories, they became a way for her to transfer critical knowledge in an engaging and memorable form. For one new hire, it was the most engaging training she had been to.
"The other impact of the training has been performing at a higher level. Instead of having to go in right away with no background about what to expect, our staff are far more prepared for that first meeting."
—Caroline Nobo Sarnoff, Measures For Justice
Narativ was founded in 2000 on the belief that storytelling humanizes communication. Co-founder Murray Nossel put his method down in writing in Powered by Storytelling.
He and Narativ trainers coach individuals and train teams to connect with their audiences through the power of storytelling.
Business Storytelling Workshops
When salespeople tell personal stories, they connect with customers around the emotions and benefits at the core of your product or service.
Improve internal communication, messaging, and understanding through group storytelling workshops.
Executives! Lead with a powerful story. Develop a presentation-ready story over four sessions with an expert trainer.
Turn your employees into storytellers capable of transforming your organization!